Dr. Johnson is looking forward to joining in the Content in the Cloud Conference Track at the Consumer Electronics Show.  The afternoon session—"The Impact on Consumers of Implementing Cloud Computing for Media Storage"— will run from 1:45-2:30 pm on Wed., Jan. 11 at North Hall N258 at the Las Vegas Convention Center.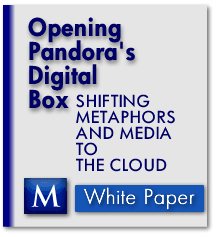 We're releasing a very recent white paper that Dr. Johnson has written as a thought-piece about the impacts on media ownership of transitioning to the cloud.
You can download the paper at this link.  Please join us as well with our e-newsletter, where we will be sharing future white papers, event announcement, and executive leadership programs.
Abstract:
In moving content to the cloud, content companies challenge social norms in ownership, payment, time, and place.  This move toward empowered computing and shared online services is not new, and has been driven by long-term shifts in costs of digital storage, computing power, and communications across vast distances.  As this ecosystem continues to develop and expand, challenges and opportunities are unfolding for consumers, content creators, and content service providers.  These challenges include building new behaviors and attitudes about ownership, discovery,  value of storage, offline media use, joint ownership, commoditization of services, competing with freemium business models, and licensing of content across blossoming new platforms layered on IaaS delivery.  This shift may change across broad spectrums of media what it means to own content, as well as reshape the perceived need to own content.  The shift also provides opportunities for new players to question what it means to create for "containers" (O'Leary, 2012) versus the past modes of creating for platforms.  Content might instead spread between traditional media types and may add value with a perpetual beta mode and direct long-term connection with consumers.
Please contact us for additional information about this and other reports from Maremel.